Udney Park War Memorial Ground funded by a War Charity and the RFU
On 31st October 1917 a meeting of Old Merchant Taylors ("OMTs") and parents met at the Merchant Taylors Hall to "consider the most fitting method of perpetuating the memory of OMTs who have fallen in the war". The meeting resolved "that a Committee be formed for the purpose of inviting donations to a fund to be applied as a lasting and visible record for those OMTs who have fallen in the war" with two purposes: "paying for the education of any son of an OMT who has fallen in the war or has been disabled" and the "erection of a permanent memorial". On 31st October a new charity was registered under the War Charities 1916 Act. On 9th Feb 1922 and 13th March 1922, the Fund bought 12 acres of land in Teddington, that was for recreation and allotments that were part of the Udney Park Estate. 
The land cost £3,257 and a further £4,359 was invested to adapt them to playing fields. Further funds were raised in a new "Pavilion Fund", which cost £5,058, including a £2,000 loan from the RFU.
The "MTS War Memorial Ground" was opened on 27th November 1922 by Viscount Cave, then the Lord Chancellor, and former WW1 Home Secretary. Among those present were two OMT Victoria Cross holders', A.O. Pollard and J. C. Barrett. 311 fallen OMTs were commemorated. The OMTs then played their former co-tenants from Old Deer Park, Rosslyn Park FC, which ended remarkably in a 0-0 draw. The original tennis courts were also opened.
Udney Park War Memorial opened by WW1 Home Secretary in 1922
Viscount Cave's opening speech was captured by Pathé News and national papers. A War Memorial Rugby Ground was a "sound idea" for commemoration:
What a Splendid idea that was of somebody's as to the Merchant Taylor's School War Memorial! So many things of this kind are either useless or ugly, sometimes both, that it came as quite a relief to find that the O.M.T.'s had a far sounder idea, the purchase and equipment of a Rugby ground at Teddington. Lord Cave, himself an O.M.T., performed the opening ceremony a few days ago.
Notable War Memorial Pavilion featured in 1924 RA Summer Exhibition
The War Memorial Pavilion was featured in: "Smaller House, selected examples of Latest Practice in Modern Architecture" and in the 1924 Royal Academy Summer Exhibition.
1924 British Lions Captain played his club rugby for OMTs at Udney Park
The RFU founding members included several Medical Schools and Old Boys clubs. OMT RFC were a major rugby club of the time, the club Captain Dr Ronald Cove-Smith played for England and led the British Lions tour to South Africa in 1924 whilst playing his club rugby at Udney Park. Amongst the fallen OMTs commemorated at Udney Park was John Raphael who led the British Lions' tour to Argentina in 1910 and died in 1917 at the Battle of Messines.
OMTs played all their home games at the "War Memorial Ground" in Teddington. This programme against Old Alleynians from March 1924 shows Cove-Smith as Captain, just weeks before the 3-month Lions tour departed for Cape Town.
Note: in 1924 there are 10 trains an hour from Teddington to London Waterloo, 33 minutes via Kingston and 35 minutes via Richmond!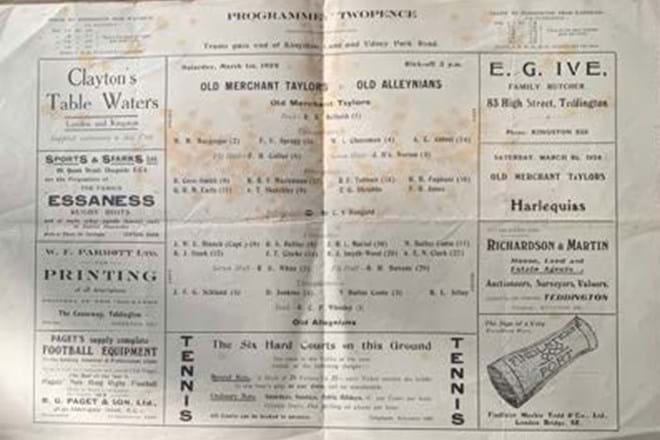 OMTs move again and sell Udney Park to the RFU in 1935 for safekeeping
The OMTs, having moved from Stamford Bridge in 1894 and Old Deer Park in 1922, moved again in 1935, the school relocated from central London to Northwood and the OMTs followed them.
The ownership of Udney Park passed to the RFU, possibly to repay the £2,000 loan.
WW2 leader Lord Beaverbrook buys Udney Park from the RFU and rugby donates Udney Park for the "playing of games by amateurs, the chief game being amateur rugby" with the RFU appointed Trustees of Udney Park ball
Meanwhile in 1928 Lord Moran was appointed Dean of St Mary's Medical School, Paddington, which was in a "terrible state". Moran was personal physician to Beaverbrook and his close friend Churchill. Beaverbrook donated £63,000 to rebuild the Medical School in 1933. At Moran's prompting, in 1937 Lord Beaverbrook stepped in to buy Udney Park for St Mary's Medical School RFC from the RFU, to help the new school attract students. Sourcing a playing field was a very deliberate act by Moran, related to his own war-time service.
"After WW1 sport was to Moran related in some important way to war, it brought in young men the battlefield character and courage they need to survive as soldiers in the trenches. We came to demand that a man should play for his side not for himself" (Heaton, 2008).
Beaverbrook's intentions remain clear with covenants written in the strongest terms available in Law in 1937, stating that Udney Park must not be used for: "any other purpose than as a sports ground for the playing of games by amateurs, the chief game being amateur rugby union" (Land Registry). The RFU remain to this day the Trustees of Udney Park.
Beaverbrook became a pivotal figure in British history. Sensing the threat to Britain, Churchill appointed Beaverbrook to the WW2 cabinet specifically to lead Aircraft Production, which Beaverbrook transformed. After the Battle of Britain, in Churchill's August 1940 "Never was so much owed by so many to so few" speech, he said in the next paragraph. "The splendid, nay, astounding, increase in the supply of aircraft which Beaverbrook has achieved by a genius for organisation and drive which looks like magic. He deserves the greatest praise from this House and the whole country".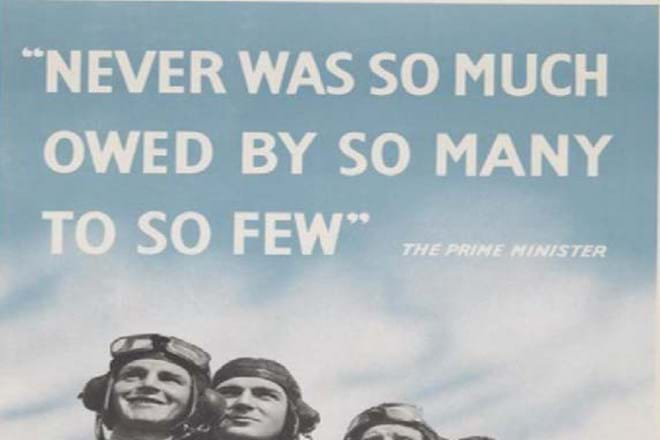 In 1941 Churchill persuaded Beaverbrook, despite failing health, to stay in the War cabinet and take on all Military Supplies including shipbuilding, writing to Beaverbrook: "I am placing my entire confidence, and to a large extent the life of the state upon your shoulders".
St. Marys Hospital, one of the oldest & most successful clubs in world rugby
Medical Schools were founding RFU members. The Hospitals Challenge Cup, contested since 1874, is the world's oldest rugby trophy. When they moved to Udney Park, St Mary's Hospital RFC (founded in 1865), were on a winning run in the Hospital's Cup from 1933 to 1939.
St Mary's brought the Cup back to Udney Park in 1946 on the resumption of play. The Pavilion also became a War Memorial
to the fallen of St Mary's. St Mary's Hospital were the most successful club with 32 Cup wins until they were subsumed into Imperial Medicals RFC in 1996. Imperial Medicals played at Udney Park until 2015, and became the most successful modern team in the Hospital's Cup.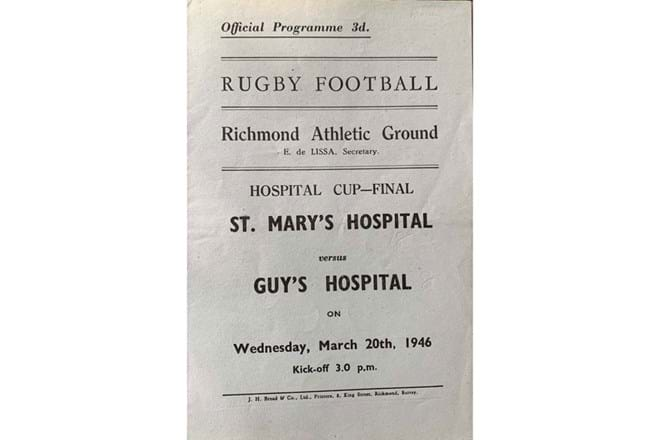 Udney Park host's sporting luminaries, community clubs & the RFU
Like OMTs before them, Udney Park was graced by fine rugby players from St Mary's Hospital RFC, notably Tuppy Owen-Smith; Captain, England (also uniquely a Wisden Cricketer of the Year) Tom Kemp; Captain, England (later President of the RFU), Edward Scott; Captain, England and JPR Williams, Wales and British & Irish Lions.
Sir Roger Bannister was a student doctor at St Mary's Hospital Medical School in 1954 when he trained for and subsequently ran the 4-minute mile, entirely during his time as a medical student when Udney Park was the St Mary's Athletic ground. He fondly recalls visiting Udney Park in his autobiography
From 1922 Udney Park was used by the public and the tennis courts were available to hire. From the 1950s Udney Park was used increasingly by local clubs and schools; providing recreational facilities to Collis School, Newland House School, Richmond Cricket Club, many
other clubs as additional pitch capacity and a host of other local  Interest groups such as Scouts, MacMillan Cancer, summer holiday camp operators etc. The RFU also leased Udney Park on ad hoc basis for training in later years.
Udney Park is sold in 2015 to a property speculator, igniting a campaign to restore this unique war memorial to the purpose intended, amateur rugby
When Imperial College decided to sell Udney Park in 2015 Boris Johnson MP said at Mayor of London Question Time:
"I note Udney Park was donated to St Mary's Medical School by
Lord Beaverbrook in 1937 specifically for use as rugby union pitches. It would be an absolute scandal and an outrage if that land was lost for that purpose. My general view is that you should keep green space in London and rugby pitches should be regarded as sacrosanct".
Between 2016 and 2021 Sport England leads the National Governing Bodies in a comprehensive campaign to protect Udney Park and prevent a precedent in Planning case-law for speculators to carve-up playing fields. Sport England, Richmond Council, the Teddington Society and the Udney Park Trust pursued an expensive though victorious campaign at the Public Inquiry, defeating the speculator and proving that Udney Park was unsuitable for building. The Udney Park Trust has secured extra protection for the fields as an Asset of Community Value and Local Green Space after a High Court case. A coalition of local clubs, led by Jonathan Dunn, Chairman of Thamesians RFC, are now trying to acquire the Park and place it in Fields in Trust protection in perpetuity for amateur sport, as Beaverbrook intended.
The case for Udney Park has also been supported by numerous locally connected sporting figures, including Sir Mo Farah, Paul Sinton-Hewitt, founder of Parkrun and JPR Williams.
Udney Park "War Memorial Ground" opened in 1922. Our goal is secure the community-led future of this unique place and re-open Udney Park to celebrate its' Centenary 2021/22 season. That would be
the only appropriate outcome to remember the fallen and respect the benefactors that dedicated Udney Park for amateur sport.